Classic musclecars square off against modern hotrods in a Midwestern Showdown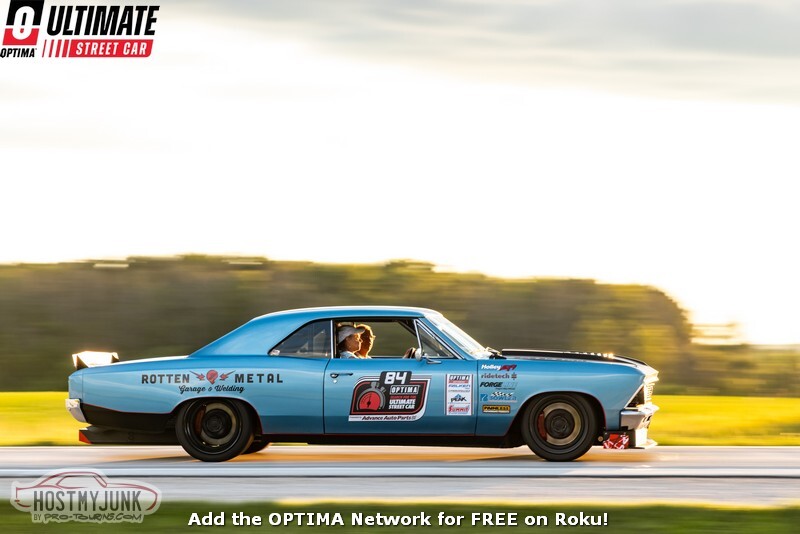 by Jim McIlvaine
Photos by Kaleb Kelley
Cars running in the Classic Car Liquidators GTV Class in
optima
"s Search for the Ultimate Street Car series are at a distinct disadvantage in multiple areas. Point are awarded before the cars are split into classes, so even though they are competing in different classes, they're all chasing the same points. The technological starting point of these vintage machines is obviously decades behind their modern counterparts and that touches ever facet of the car, from the power of the engine to the performance of the brakes and even the shape of the cars as they cut through the wind. The
optima
series does allow them a little bit extra in the aero department to help compensate for those disadvantages, but they have to work hard to match the power and performance of even base models that are fifty years newer.
However, that same handicap on the track also holds the potential to be a great equalizer for them in the Ligenfelter Design & Engineering Challenge. That segment of this series is what separates it from everything else in motorsports- these cars aren't just competing to be the fastest, they're also trying to look the best while they're doing it, inside and out. In that regard, the older cars can be at a distinct advantage. The judges are instructed not to compare cars, but to evaluate each car based on how it was improved (or degraded) from the way the factory produced it. In that regard, cars coming from further back in automotive history can hold a distinct advantage, because their base for improvement is so far removed from where many are now in nearly every regard. From engine performance to exhaust diameter, tire width, wheel weight, even stereo output improvements can score points, if the judges are made aware of the improvements in the four-minute presentations.
How does it work out when the tires hit the tarmac? At Road America, Chris Smith's '70 Camaro claimed the top overall spot with 489 points out of 500, while John Falkner's 2021 Camaro grabbed the second-most with 483 points. The two were a wash on the Falken Tire Road Course Time Trial, where Falkner held a two-point advantage and the Autocross, where Smith held an identical advantage. Falkner edged out Smith by a single point on the Peak Performance Challenge and posted a very impressive 93-point score out of a possible 100 in the Lingenfelter Design & Engineering Challenge. However, Chris Smith's '70 Camaro was the top overall car in the Design & Engineering segment and that seven-point advantage is how Smith ended up with six more points on the weekend.
It's not a perfectly-balanced system, but it is definitely one that favors the complete package of car and driver performance, as well as visual appeal and attention to detail. Smith isn't an anomaly either, as three other cars from the GTV Class all finished in the top-10 in points. Competitors in other classes have cracked the code as well, as evidenced by the top-10 having five different classes represented.
Maybe one of the best aspects of this series is that it doesn't ask competitors to compromise the integrity of their vehicles to be competitive in the series. No penalties are assessed when safety features like rollbars and fire suppression systems are added, but at the same time, cars are also rewarded for retaining all the functional components that are often discarded in cars converted to track duty. The absence of a functional horn, wipers, turn signals, HVAC system and radio and other such features carry heavy penalties that will render cars uncompetitive in the series.
A competitor can always yank that stuff out if they want to move to a dedicated time trial series, but if they don't, they'll not only have a comfortable ride they can enjoy on the Hot Rod Power Tour, Cruisin' the Coast or Hot August Nights, they'll also have one of the very best all-around examples at any of those events. Come see for yourself or watch the TV series anytime on the OPTIMA Network, a free download on your favorite streaming platforms, including AppleTV, Amazon Fire TV and Roku.
Top Ten Overall

| | | | | |
| --- | --- | --- | --- | --- |
| Place | Name | Car | Class | Points |
| 1. | Chris Smith | 1970 Chevrolet Camaro | GTV | 489 |
| 2. | John Falkner | 2021 Chevrolet Camaro | GT | 483 |
| 3. | Jonathan Blevins | 2008 Ford Mustang | GT | 479 |
| 4. | Mike Gallagher | 2016 Ford Focus RS | GTS | 465 |
| 5. | Ray Ellsworth | 2008 Dodge Viper | GTS | 465 |
| 6. | Ryan Mathews | 2002 Chevrolet Corvette | GTL | 461 |
| 7. | Dayton de la Houssaye | 2016 Mazda MX-5 | GTC | 460 |
| 8. | Jason Bottenfield | 1969 Chevrolet Camaro | GTV | 455 |
| 9. | Brendan King | 1969 Chevrolet Camaro | GTV | 445 |
| 10. | Jason Smith | 1987 Chevrolet Camaro | GTV | 438 |
Classic Car Liquidators GTV Class (pre-1990, 3200+ pounds)
1. Chris Smith, 1970 Chevrolet Camaro
2. Jason Bottenfield, 1969 Chevrolet Camaro
3. Brendan King, 1969 Chevrolet Camaro
No-Limit Engineering GTT Class (trucks, vans & SUVs)
1. Stephen Dorrick, 2005 Nissan Frontier
2. Scott Maeyaert, 1972 Chevrolet C10
3. Tyler Hawker, 2020 Chevrolet Colorado
Summit Racing Spirit of the Event Award:
Jesse Shaffer, 2015 Chevrolet SS
2023 OPTIMA Search for the Ultimate Street Car Schedule
Thunderhill Raceway March 3-5
NOLA Motorsports Park March 10-12
Laguna Seca May 5-7
Portland International Raceway July 21-23
Road America July 28-30
Daytona International Speedway August 11-13
VIRginia International Raceway October 6-8
OPTIMA Ultimate Street Car Invitational Las Vegas October 31 - November 6
Check out the full set of photos for this event on the HostMyJunk.com Gallery.
Click here to see them all!
Remember to add the
OPTIMA Network on Roku
and watch all the past seasons of this series free and on-demand!
Discuss this article in the forum!
Click here for the discussion thread.