Big Red is back.
Yes, that Big Red Ė The Original Badass, Big Red Camaro.
If you still donít know what Iím talking about, maybe this will refresh your memory:
"...After a few years of running in Mexico, RJ Gottlieb joined his father at the 2
nd
annual Silver State Challenge. RJ annihilated the competing super cars, and won the Silver State Challenge 94-mile course in 27 minutes, 54 seconds, for an average speed of 197.99mph and a radar-recorded 222-mph top-end velocity..." The list of win and accomplishments spans decades and is no less impressive than that first U.S. win; including a Land Speed record of 251.8 mph at the Mojave Magnum in 2015.
After years of racing and a few years of carrying around a bunch of lead for land speed and salt flat racing, the car needed an overhaul. Technology advancements and a diet were in store so the team took the car out of commission and went to work on a full-car rehab. Driver RJ Gottlieb wanted to go back to road racing and really wanted to check Pike's Peak off of his bucket list. The car emerged in the Spring of 2015 (one year later) a lighter, brighter and faster Big Red. The team rolled the car out of the shop and immediately started testing and tuning for Pike's Peak.
While doing the final shakedown run for the Pikeís Peak Challenge, (after making all the necessary qualifying runs) Big Red was being tested at Buttonwillow Raceway about a week before being put on the trailer and hauled back to Colorado. During one of the final runs, the fuel rail came loose, fuel started to exit the system, immediately caught fire, and the car was engulfed in flames.
Suddenly, all the blood, sweat and tears was reduced a heaping pile of charred remains. The Big Red family was crushed. No Pikeís Peak. Maybe no anything. No one was physically hurt but spirits were definitely bruised. Would the Gottlieb family put even more money into this iconic car? Would they fix her up only to mothball her in a museum somewhere?
Fast forward a few weeks while the team and the Gottlieb family had some time to think about the whole ordeal and the build team at HQ gets the word that YES, they will rebuild and YES they will race.
Here we are in March of 2017 and Big Red is rolled out of a trailer at Westech in Southern California ready to put the new power plant on the dyno; team has committed to attending an invitation-only land speed event at Mojave Airstrip in three weeks and the 'old girl' needs to be tuned.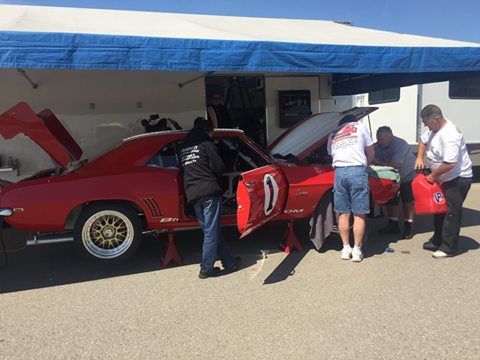 Another test and tune at Famoso Raceway - trying to get the tires to stay in contact with the ground for first and second gears.
We will be following Big Red's comeback closely and we hope that you will root the team on to many more victories.
If you follow Big Red Camaro on Facebook, they are giving away some of the car's history if you guess the top speed at Mojave. The team is hoping for 260mph, I think thatís conservative. What do you think?