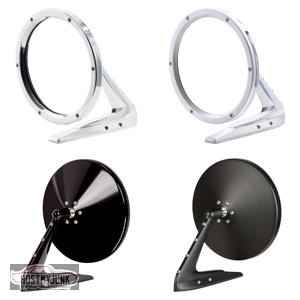 Billet Rides Billet Side View Mirrors NOW WITH CONVEX GLASS!!!!
All Models of Billet Rides Side View Mirrors will Now feature CONVEX GLASS!!!! All models are in Stock!!! Get them while you can!!!
These mirrors have been designed with the goal of mixing style, elegance and functionality. Using 6061-T6 aluminum we crafted these mirrors to out perform any original factory mirror with the amount of articulation, style and with the ability to tighten the tension on the pivot ball. You will no longer need to readjust your mirrors after shutting your door or when you drive faster that 30 mph. This mirror will fit almost anything and is designed to adapt to any car with a stock mounting hole distance of 1 1/2"-2 1/2" between the door mounting holes. The Billet Rides Mirror was also crafted to eliminate your factory mounting brackets while utilizing your factory door hole locations. All of the mounting holes for the 67-69 Firebird/Camaro, 64-72 GTO/LeMans/Tempast, 64-72 Chevelle/El Camino/Malibu and 63-65 Nova were analyzed for fitment. These mirrors are not limited to just GM cars and will work on anything with the correct hole distance or if you custom drill your doors to fit. After machining, these mirrors are polished to a perfect finish, glass beaded for a brushed look or anodized black.
Pricing of the mirrors are $250 each for Polished, $255 each for Brushed and $265 each for Black anodized models plus shipping. These are the finest billetsideviewmirrors available today!!! My order quantities sell out extremely fast, get them while you can.....
We also offer billet fender braces for 67-69 Camaro/Firebird and headlight rings for all GM 5 3/4" headlight rings. Please contact me for any questions regarding any of our products.
Thanks,
Doug Baril
Billet Rides
www.billetrides.com
[email protected]
352-318-9889