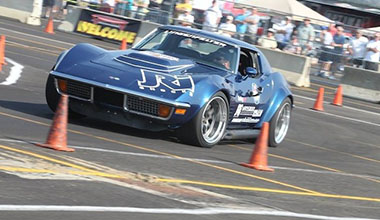 In this episode of the podcast show Larry and Robert had the chance to break down the break down the current qualifiers for the Goodguys 2014 Season Finale Autocross event.
It may seem like we're jumping the gun a bit, since it doesn't take place until the weekend after the 2014
optima
Ultimate Streetcar Invitational (which we covered in detail in Episode 76), but we wanted to give the update now since it's not likely we'll be able to put a show out in that duration. SEMA has a tendency to take a toll on the body and blur time a bit. It's fun, but it's a gauntlet to get through!
Ron Francis Wiring
Get all your wiring needs at http://www.ronfrancis.com or call toll free 800-292-1940
Visit Optimabatteries.com to see their entire
line of batteries and the new Digital 1200 Charger
Please support our site and podcast sponsors. Without them we couldn't do this.
You can listen to us by searching for Pro-Touring.com on iTunes or you can listen using the link below.
Click here to listen to the episode now without loading any software